Recon supports World AIDS Day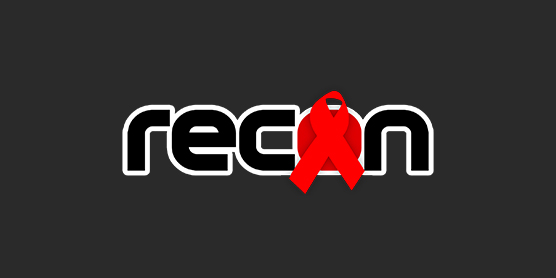 Over the years Recon members have generously donated hundreds of thousands of pounds to worldwide AIDS charities. Your generosity has always been appreciated, and we ask if you can again spare a donation - no matter the size – and continue to show your support for those affected by this disease and join us in helping charities who fight it on the frontlines, and support those who need crucial services.
We're giving all our members the option to add a virtual red ribbon to their Recon profile for free. You can add a ribbon by going to our World AIDS Day page using the below link. The ribbon is a way for you to let those affected by HIV and AIDS know that you stand with them, and we hope that Recon members take this opportunity to show their support for this ongoing fight.
This year we've selected three great charities who do great work in the fight against the spread of HIV and in supporting people living with HIV and AIDS. If you'd like to donate to these great causes, you can do so using the link buttons for each.
AIDS MEMORY UK
HIV campaigner, Ash Kotak, began work to create the UK's lasting memorial to those who have died of an HIV-related illness and to act as a reminder that the fight to end AIDS, and the stigma of HIIV and AIDS, continues worldwide.

The new sculpture will be located in London (off Tottenham Ct Rd) near the former Middlesex Hospital. This is where the UK's first AIDS unit was opened by Princess Diana in April 1987, at a time when people were afraid to touch. Her humanity has influenced many.

Support for this memorial project is across a wide range of sectors: arts, politics, business, finance and other charity and voluntary organisations. Join them in supporting this magnificent project.
HOUSING WORKS (NYC)
Housing Works fights for funding and legislation to ensure that all people living with HIV/AIDS have access to quality housing, healthcare, HIV prevention and treatment, among other lifesaving services. Since 1990 they've provided comprehensive services to over 30,000 homeless and low-income people living with HIV/AIDS or at-risk of infection.
AMFAR
amfAR has been making history as one of the leading research advocates with a globally strong commitment in pursuit of a cure for HIV/AIDS. In 2014 they launched the "Countdown to a Cure for AIDS" campaign – a research initiative aimed at developing the scientific basis for a cure. Over the years they've also launched a number of global initiatives to reduce the risk of acquiring HIV and Hep C, expand access to HIV prevention and treatment services to gay men and other men who have sex with men, transgender individuals, sex workers and people who inject drugs, and to reduce the stigma and discrimination that make these populations more vulnerable to HIV infection and inhibit equal access to care.

You don't need to donate to add a red ribbon to your profile, as we want the ribbons to demonstrate a massive message of support, but any donations you can provide will, as always, be greatly appreciated by the charities and everyone here at Recon.