Recon's 2023 World AIDs Day Campaign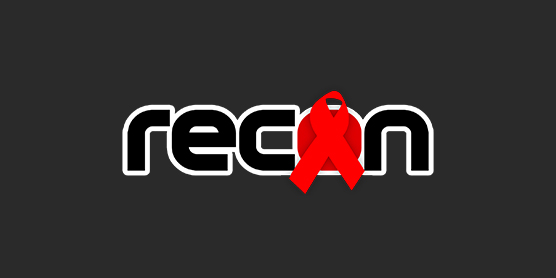 Today is World Aids Day, and once again, Recon, along with thousands of communities and organisations from around the globe, begin our World Aids Day fundraising campaign.
Over the years, Recon members have continued to generously donate hundreds of thousands of pounds to worldwide AIDS charities, and your generosity has always been appreciated, no matter how small.
Even though health and medical research organisations have made incredible advancements in treatment as well as prevention, the challenges to share that knowledge and educate global communities, distribute medication, and provide health care continues.
We, as a community, need to continue to show our support for those affected by the disease, as well as help support the charities and organisations fighting on the front lines, and fighting to help end the stigma and discrimination many still face.
This is why we wear the red ribbon, and this is why we give our members the option to add a virtual red ribbon to their Recon profile for free.
We are amazed at how many of you continued to show that support throughout the year.
Once again, we invite you to make a donation, no matter how small, to one of the organisations chosen for this year's campaign.
And if you haven't already got a ribbon on your Recon profile, you can still show your support and add it now.
This year we'll be supporting these great charities in their work to fight against the spread of HIV and in supporting people living with HIV and AIDS: If you'd like to donate to these great causes, you can do so using the link buttons for each.
LGBT HERO
LGBT HERO is celebrating the 30-year legacy of GMFA (Gay Men Fighting AIDS) this World AIDS Day and is pledging to continue the groundbreaking work and support for people living with HIV. GMFA was established in 1992 by a group of gay men who felt that there was not enough HIV prevention work being specifically targeted at gay men. Originally named Gay Men Fighting AIDS, GMFA's initial remit was to campaign for more targeted HIV prevention work aimed at gay men, and to raise awareness of HIV amongst gay men, improving gay men's health by increasing the control they have over their own lives. 30 years later, LGBT HERO wants to celebrate the legacy of GMFA and continue the strong tradition of HIV education, supporting people living with HIV and fighting HIV stigma. LGBT HERO also wants to make sure GMFA is not forgotten and that people can access the work they created since 1992, which can be accessed on the new archive at gmfa.org.uk.
AREMEDIA Paris
AREMEDIA is a Public Health and Popular Education association, approved by the Ministry of the City of Youth and Sports and the Rectorate of the Academy of Paris. Their mission is to highlight the promotion of Public Health, the prevention of risky behaviour, and provide access to care - working with young people and populations in situations of psycho-social vulnerability or exclusion. AREMEDIA have introduced a pioneering HIV and STI outdoor screening campaign in and around many events across the city of Paris in their continued fight to raise awareness of the sexual health challenges of our community.
Berliner Aids-Hilfe
In 1985, the Berliner Aids-Hilfe was founded as a self-help organization to support people with HIV or AIDS as a non-profit charitable association. As a Human Rights organisation, they continue to focus on healthcare and the fight against the stigmatization of HIV-Positive people and for a life free from discrimination. In the implementation of the international metropolitan initiative "Fast-Track Cities Initiative To End AIDS", they are an important partner in the state of Berlin, in order to end AIDS by 2030 and achieve: zero discrimination and stigmatization of people with HIV or AIDS.
SAN FRANCISCO AIDS FOUNDATION
The San Francisco AIDS Foundation promotes health, wellness, and social justice for communities most impacted by HIV, and provides services, community support, and spaces for people of all ages, races, ethnicities, immigration status, HIV status, and gender identity. Their priority communities are people living with HIV; gay, bisexual, and queer men; transgender and gender non-binary people; and people who inject drugs. Within these communities, they further prioritize people of colour, people experiencing homelessness and unstable housing, people over age 50, people living with hepatitis C, people who use substances, and people with mental health care needs.

You don't need to donate to add a red ribbon to your profile, as we want the ribbons to demonstrate a massive message of support, but any donations you can provide will, as always, be greatly appreciated by the charities and everyone here at Recon.